Swantje Lichtenstein on a work by Antonia Low
The subject of exhibition tends more and more to be not so much the exhibition of works of art, as the exhibition of the exhibition as a work of art. (Daniel Buren, 1972)
It is not about a studio-art-concept, not even an exhibiting situation as a notion or a piece of conceptual art. Antonia Low's work Skulpturen-Depot (2014) is a form of meta-concept or meta-exhibition, a body of evidence of the transcendental as well as an artistic process and a discourse.
On the one hand it shows the complexity of the system of art, on the other it is a research on the ways to exhibit, on space as a place for social interaction, on the living depot as a showroom. Making seen the unseen, the container, the dump, it creates the storage (room) of art as a textile (re)print.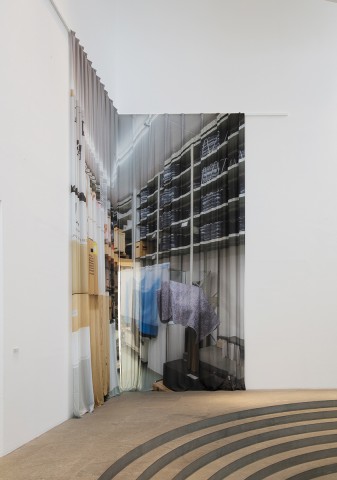 The printed curtains with a picture of the storage rooms of the Kunstmuseum Bonn (a sculpture of Max Ernst included) at the same time signify an entrance and an in-between. Hanging above the stairs, the curtain forms a corner shaping (and creating) a triangular situation.
The ephemeral effect of the printed material points to a flexibility of the materiality of exhibiting rooms; a focus on the room itself, which makes the museum and its context visible as well as questionable.
The installation turns the display spatial, sculptural. Standing on the verge of the query of what makes an object a work of art or merely a thing, the installation functions like a "meta-ready-made", exploring the artistic process, production and interaction.
To exhibit with awareness of being exhibited in the context of other art works in the museum with the intention of telling a story, doing research, the collection (on the curtain) triggers back, showing the inside on the outside. Moves backward and forward. Oscillates from one room to another.
What would happen, if we also moved? This movement on the verge of the museum finds a solid answer to the question of exhibiting as an inherent part of any work of art.
Skulpturen-Depot, 2014, digital print on linen, 7 x 4,6 m and 7 x 4,9 m